Theme decoration
There are 47 products.
Theme parties
Deco Party UK offers an original range of party decorations. You will find about 20 different party themes with designs created by ourselves and so you only can buy on our unique party supplies online. Do you need theme decoration ideas for any occasion? We supply our theme decoration for parties, most popular are western, Hawaiien, 70s theme party, 80s theme party, fiesta theme party supplies, casino theme party, Pirate theme party decoration, Italian theme party, music theme decoration ideas, Oriental theme party, Cuban theme party, Spanish theme party , German theme party, French theme party, Greek theme party, Hollywood theme party, medieval party decorations and of course British theme party.
High quality paper and plastic bunting, banner,...
More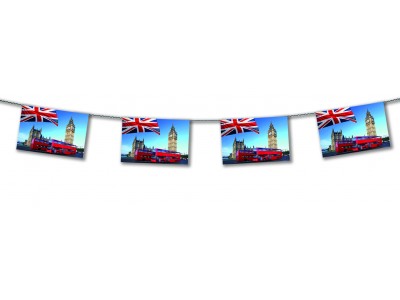 Western Party Supplies
Enjoy our unique wild west party decorations. Very popular in the UK you will find our great cowboy bunting to get a wonderful decoration for cowboy theme party, also our Wanted cutout. Do you want other western decoration ideas? You can buy online our western hanging swirls, our Far West and Village western banners, our honeycomb western garlands all for a western theme decoration. Then you can add patriotic American bunting flags, American handwavers, American cocktail sticks and American flag confetti for table decoration.
Disco Party Ideas
Deco Party UK is the leader supplier of 70s party decorations and 80s theme decorations ideas. With its creations and original designs, Hotels, Pubs, Restaurants, Night Clubs and much more will be able to decorate with flame-retardant disco bunting, flame-resistant disco hanging swirls. We also supply items without any flameproof treatment at lower prices, so items for every occasions and every budget. Our disco home décor are disco ball bunting, rock n' roll banners, vinyl hanging swirls and for disco table decoration you can see our disco ball confetti and vinyl confetti. To give a metallic effect you also can buy our foil tassels so an electric party!
Hawaiien Theme Decoration Ideas
Do you need tropical party decorations for your private party? We offer nice range of Hawaiien party supplies. Original fruits banner, Sea garland, Hawaii Isle bunting, Aloha Cutout, beach hanging swirl decorations, you can find different luau party decorations for a very low price.
Mexican Themed Party
Are you looking for fiesta party ideas? Deco Party UK offers original Mexican decorations with our own designs : Bunting with Mexican fiesta decorations, banners with cactus and Mexican desert, honeycomb green and white fans and balls and cactus hanging swirls. Ideal for Mexican restaurants as Tex-Mex, but also for any occasions. Of course we make and supply Mexican flag bunting, Mexican Handwavers, Mexican flag confetti and Mexican cocktail sticks.
Casino Party
Need any casino party ideas ? Find our Vegas Party Decorations for a great private party. Also for casino room decoration our bunting flags and metallic hanging swirls are flame-retardant. For table decoration you will appreciate our casino confetti.
Hollywood Theme Decoration Ideas
Give your finish touch with our themed Hollywood party supplies. Want to be a VIP while your party, our Hollywood party decorations will add a glamour touch while your event and any occasion. With our VIP bunting and VIP table confetti, movies banner, clap Cutout, stars hanging swirls and much more Hollywood party goods you will enjoy organizing parties and inviting guests.
Italian Themed Party
We propose gorgeous Italian decorations with great value and competitive prices. From our classic party decorations as Italian bunting flags, Italian handwavers, Italian cocktail sticks and Italian flag confetti, to our original creations as Colosseum bunting, Pisa Tower banner and Venice flagline, assorted with our cardboard Cutouts, we also supply honeycomb fans, honeycomb balls and honeycomb garlands special treated to be flameproofed with Italian flag colours ( green, white, red ). Ideal to decorate pizzeria, Italian restaurants, Pizza express and all European and Patriotic Italian party & events!
Union Jack Party Supplies
Look at our Patriotic decoration ideas for Union Jack party decorations, bleu red white colours. Our famous British flag themed decor are suitable for indoor and outdoor use. From paper honeycomb decorations as blue red white fans, balls and garlands, flame-resistant, or our Union Jack bunting flags, Union Jack hanging swirls, Union handwavers and British cocktail sticks, you can also decorate your table with our Union Jack flag confetti. Our British themed party are not only red and white crossed with blue background we also supply pennant banner with one triangle blue, one white and one red. We also can buy online our London themed party decoration as bunting and banners for a wonderful home décor.
Medieval Themed Party
Enjoy our original medieval party supplies. Deco Party UK offers two different shield Cutouts with yellow Lion and lily flower, one with red background second one with blue background. Our cheap medieval party decorations is also available with two medieval banners, 25x50cm, one with red background and second with blue background. Get your finish touch with our brave Knight Bunting flame-retardant paper, a wonderful party decoration.
Cuban Themed Party
Do you want top quality Cuban party decorations? We supply Cuban flag bunting, Cuban cocktail sticks, an original Cuba Cutout and some Cuban banners with famous and typical Cuban cars or rum cocktail and Cuban cigars you can see all over the country! Oriental Party Decorations For this famous party decoration, Deco Party UK offers some oriental bunting and banners and also some oriental Cutouts either to hang for any occasion, your garden party, oriental restaurants and much more!
Spanish Themed Party
Deco Party UK supply an important choice of Spanish party supplied, red and yellow honeycomb decorations as paper fans, paper balls and paper garland. We also produce Spanish bunting flags, Spanish hand-waving flags, Spanish cocktail picks, Spanish flag confetti and original garlands with famous bulls, Flamenco banner and foil tassel in red and gold.
Greek Themed Party
For Patriotic Greek party, buy online our Greek bunting flags, Greek Handwavers or other original creations of Deco Party UK with Acropolis banner or Santorini flagline.
French Themed Party Decorations
Buy online our French Patriotic decorations : blue white red colors, you can find French honeycomb paper balls, paper fans and paper garlands. Deco Party UK supply French bunting flags, French hand-waving flags, France cocktail sticks, French flag hanging swirls and French flag confetti for table decoration. France make very good wine so we propose you some grape bunting with either red grapes or white grapes.
German Themed Party Decorations
Enjoy our Oktoberfest bunting and our high quality honeycomb German decorations, paper garland, paper ball and paper fan. German flag colours are black, red and yellow. We also supply German bunting flags, German hand held flags, finally German cocktail sticks and German flag confetti for table decoration.
Buy in bulk
Deco Party UK is a French party decoration manufacturer, if you would like to buy in bulk and you have been a wholesaler, reseller, retailer in the UK, feel free to contact us and we will offer you special prices.